Feldstein Family Law Group P.C. is the trusted name in Ontario, Canada and the surrounding region when it comes to compassionate, experienced divorce and family law representation. Ever since we first opened our doors 25 years ago, we have been committed to going above and beyond for our clients in every way possible. We are not satisfied with a case result unless our clients are, too.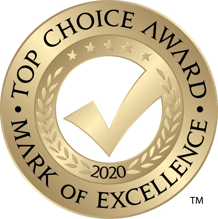 In recognition of our pursuit of total customer satisfaction and excellence in legal representation, the Top Choice Awards has named us the Top Choice Family Law Services of 2020 in Markham award winner!
Top Choice Awards uses a survey process to identify leading law firms and lawyers across dozens of major cities in North America. The competition is fierce each year because there are so many talented legal professionals out there. Being able to win this title really feels like something special. It is all the more exciting to us since it is not even the first time we won it, having also been the Top Choice in 2019 and 2018.
From all of us at Feldstein Family Law Group P.C., we want to send a heartfelt thank you to everyone who helped make this selection possible for us once again. The greatest appreciation must be shown to our clients, who have continued to trust in us for their difficult and sensitive family law cases. Without you, we would not have been able to grow into the reputable law firm we are today. So, once again, thank you!
Want to know more about the Top Choice Awards and our winning selection? Click hereto visit the official Top Choice Awards website and its Markham winners. To learn more about our legal services and to get our help for a case of your own, please call (905) 581-7222 to arrange a free consultation.