Careers Protecting Your Family's Interests for Over 30 Years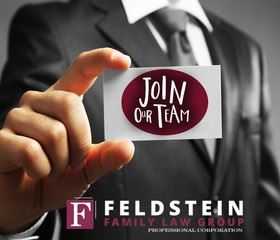 Open Positions
Please forward your cover letter, resume and references to admin@feldsteinfamilylaw.com.
---
In order to achieve our goal of enhancing diversity and inclusion at Feldstein Family Law Group P.C., and as we are required to comply with the policy as mandated by the Law Society of Upper Canada, when recruiting employees for our firm, we have a commitment to diversity, equality, and inclusion in our recruitment process.
Associate Family Lawyer - Mississauga & Oakville
We are an established Family Law firm in four locations seeking Associates to join our firm in Mississauga and Oakville. TWe are looking to hire a motivated candidate who acquires strong professionalism and high ethical standards to join our energetic connected team of lawyers. We are committed to equality, diversity, and inclusion.
Requirements for excellence:
The successful candidate must be in good standing with the Law Society of Ontario with 3-5 years of Family Law experience.
Carriage of and responsibility for managing client family law files.
Feldstein Family Law runs a paperless, cloud-based practice and the successful candidate must have knowledge of Divorcemate and Word, Knowledge of Cosmolex and NetDocs is an asset.
The firm offers a competitive compensation package.
Please forward your cover letter, resume and references to admin@feldsteinfamilylaw.com.
We thank all applicants for their interest, however, only those candidates selected for interviews will be contacted.
Articling
You will be articling at an twelve-lawyer (and growing) law firm that deals with family law. The lawyers all attend various courts (including, but not limited to: Milton, Brampton, 393 University, 47 Sheppard, Barrie, Orangeville, Peterborough, Whitby, and Oshawa) with much work done in Newmarket. Given the size of our firm and the fact that we do quite a bit of work at the court in Newmarket, you get to learn who the other lawyers are in York Region, as well as the judges and court staff. The legal community in York Region is quite established.
As an articling student, you will be provided with experiences such as:
Preparing materials for court (Applications, Answers, Replies, Notices of Motion, Affidavits, Factums, Case, Settlement and Trial Management Conference Briefs, Financial Statements, and Requests to Admit, just to name a few);
Drafting correspondence to other lawyers and clients;
Assisting in managing court files with another lawyer;
Participating in continuing legal education seminars and lawyer lunches;
Legal research;
Attending client meetings (i.e. to obtain client instructions, to review and sign documents);
Sitting in on initial consultations; and
Preparing a file for court and assisting the responsible lawyer at court for appearances such as Motions, Case, Settlement or Trial Management Conferences.
We encourage new members of the firm to become involved in the daily management of the firm through lawyer lunches and staff meetings. Our open door policy encourages new members of the firm to approach the lawyers and staff with any questions they may have and someone will be available to point you in the right direction.
Our firm also offers a comprehensive library and internet resources to allow a lawyer to do any legal research they require on a file. The office is technologically advanced and wired with all that you need to help you in a family law matter (PCLaw, Divorcemate, Worldox, Carswell/Westlaw, Acrobat, Word, etc.). Continuing education also plays an important part in a family law lawyer's day-to-day practice. We encourage staff and lawyers to stay on top of the latest cases and changes in legislation in family law through lawyer lunches and various CLE programs offered through the OBA and LSUC.
You will be provided with a hands-on experience that will assist you in your career as a lawyer.
Andrew Feldstein is the Chair of the Articling Committee at Feldstein Family Law Group. Please email your application directly to info@feldsteinfamilylaw.com.
Meet Our Dedicated Team of Lawyers
Over a Century of Collective Experience Andrew Feldstein Founder

Andrew Feldstein graduated from Osgoode Hall Law School in 1992. Prior to focusing exclusively on family law, Andrew's legal practice covered many different areas, including corporate commercial. One of Andrew's fundamental objectives is to achieve those goals mutually and collaboratively, as set out by him and his client.

Read Bio

Daphna Schwartz Lawyer

Anna Troitschanski Lawyer

Nick Slinko Lawyer

Nick Slinko attended York University from 2003 until 2007 where he majored in both Law & Society and Philosophy. Nick graduated in 2007 with an Honours Bachelor of Arts degree. He proceeded to earn a Juris Doctor in Law at the University of Western Ontario in 2011. Nick was Called to the Bar in June of 2012 after completing his Articling term with the Feldstein Family Law Group, P.C. He became an associate with the firm immediately thereafter.

Read Bio

Veronica Yeung Lawyer

Veronica Yeung joined the Feldstein Family Law Group, P.C. as a summer student in 2014 and returned as an articling student in 2015. Following her call to the Ontario Bar in June 2016, Veronica was welcomed to the team as an associate lawyer.

Veronica attended York University for her undergraduate studies and graduated as a member of the Dean's Honour Roll when she obtained her Bachelor's degree in Honours Criminology.

Read Bio

Shana Gordon-Katz Lawyer

Shana joined Feldstein Family Law Group P.C. as an articling student in 2017. Following her call to the Ontario Bar in June 2018, Shana was welcomed back to the firm as an associate. While completing her articles, Shana assisted with legal matters covering all areas of family law.

Shana attended the University of Western Ontario for her undergraduate studies, where she graduated as the gold medalist of her program, Honors Specialization in Classical Studies.

Read Bio

Rachel Zweig Lawyer

Rachel joined Feldstein Family Law Group P.C as a Summer Student in 2019 and returned as an Articling Student in 2020-2021. Following her Call to the Ontario Bar in April 2021, Rachel was welcomed back to the firm as an Associate.

Prior to completing her legal studies and obtaining her Juris Doctor at the University of Ottawa, Rachel obtained her Bachelor's Degree at Ryerson University with a major in English Literature.

Read Bio

Lauren Harvey Associate Lawyer

Lauren joined Feldstein Family Law Group as a Summer Student in 2020 and returned as an Articling Student in 2021-2022. Following her Call to the Ontario Bar in April 2022, Lauren was welcomed back to the firm as an Associate.

Prior to completing her legal studies and obtaining her Juris Doctor at the University of Western Ontario, Lauren obtained her Honour's Bachelor of Arts Degree at Wilfrid Laurier University majoring in Criminology and minoring in Law and Society.

Read Bio

Quinn Held Associate Lawyer

Quinn spent two years as a Summer Student and then completed her Articling term at a boutique Family Law firm in Orangeville, where she was exposed to various complex Family Law matters. Following her Call to the Bar of Ontario in June 2022, she became an Associate with the Feldstein Family Law Group.

Prior to obtaining her Juris Doctor from the University of Windsor, Quinn obtained her Honour's Bachelor of Arts Degree at the University of Guelph majoring in Criminal Justice and Public Policy and minoring in International Development.

Read Bio