Career Opportunities
Join the Team at Feldstein Family Law Group P.C.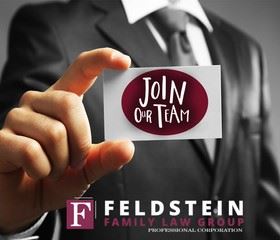 In order to achieve our goal of enhancing diversity and inclusion at Feldstein Family Law Group P.C., and as we are required to comply with the policy as mandated by the Law Society of Upper Canada, when recruiting employees for our firm, we have a commitment to diversity, equality, and inclusion in our recruitment process.
Lawyer- Mississauga & Oakville
Feldstein Family Law Group Professional Corporation is seeking an enthusiastic, energetic Lawyer with 7 or more years' experience in Family Law. We are a growing eleven-lawyer firm with its head office located in Markham, exclusively practicing Family Law. Knowledge of ProLaw, Divorcemate, and Word is an asset. We are committed to equality, diversity, and inclusion.
This position is to work at our Mississauga and Oakville office locations.
Please send resumes, together with a cover letter and references to Melanie Rain at mrain@feldsteinfamilylaw.com
Receptionist – Markham
Feldstein Family Law Group Professional Corporation is looking for a full-time receptionist with strong telephone and interpersonal skills. Organizational and multi-tasking skills are a must.
This position is for our Markham location at 20 Crown Steel Drive, Suite 8, Markham.
Please send a covering letter, together with your resume, transcripts, and references to Melanie Rain at mrain@feldsteinfamilylaw.com.
Articling
You will be articling at an eleven-lawyer (and growing) law firm that deals with family law. The lawyers all attend various courts (including, but not limited to: Milton, Brampton, 393 University, 47 Sheppard, Barrie, Orangeville, Peterborough, Whitby, and Oshawa) with much work done in Newmarket. Given the size of our firm and the fact that we do quite a bit of work at the court in Newmarket, you get to learn who the other lawyers are in York Region, as well as the judges and court staff. The legal community in York Region is quite established.
As an articling student, you will be provided with experiences such as:
Preparing materials for court (Applications, Answers, Replies, Notices of Motion, Affidavits, Factums, Case, Settlement and Trial Management Conference Briefs, Financial Statements, and Requests to Admit, just to name a few);
Drafting correspondence to other lawyers and clients;
Assisting in managing court files with another lawyer;
Participating in continuing legal education seminars and lawyer lunches;
Legal research;
Attending client meetings (i.e. to obtain client instructions, to review and sign documents);
Sitting in on initial consultations; and
Preparing a file for court and assisting the responsible lawyer at court for appearances such as Motions, Case, Settlement or Trial Management Conferences.
We encourage new members of the firm to become involved in the daily management of the firm through lawyer lunches and staff meetings. Our open door policy encourages new members of the firm to approach the lawyers and staff with any questions they may have and someone will be available to point you in the right direction.
Our firm also offers a comprehensive library and internet resources to allow a lawyer to do any legal research they require on a file. The office is technologically advanced and wired with all that you need to help you in a family law matter (PCLaw, Divorcemate, Worldox, Carswell/Westlaw, Acrobat, Word, etc.). Continuing education also plays an important part in a family law lawyer's day-to-day practice. We encourage staff and lawyers to stay on top of the latest cases and changes in legislation in family law through lawyer lunches and various CLE programs offered through the OBA and LSUC.
You will be provided with a hands-on experience that will assist you in your career as a lawyer.
Andrew Feldstein is the Chair of the Articling Committee at Feldstein Family Law Group. Please email your application directly to info@feldsteinfamilylaw.com.