Join EAPO on September 8th for our Webinar on "Grandparent Rights", presented by Andrew Feldstein, Founder of Feldstein Family Law Group.
Grandparents can and do play an important role in a child's life. Unfortunately, the rights of grandparents are often overlooked. Despite being intimately involved in their grandchildren's lives and upbringing and often providing care, grandparents may be refused access to their grandchildren.
Advocates say an estimated 75,000 Ontario grandparents have limited or nonexistent access to their grandchildren, for reasons such as divorces, separations, or fractured relationships with their own adult children.
In recognition of Grandparent's Day - September 11th, EAPO is hosting a webinar to bring awareness of Grandparent's Rights. Join us to learn what the laws say regarding grandparents' rights for access and custody and gain insights on the court process and alternative options. These sensitive and challenging matters of grandparents' rights from legal and emotional perspectives alike will be explored and much more.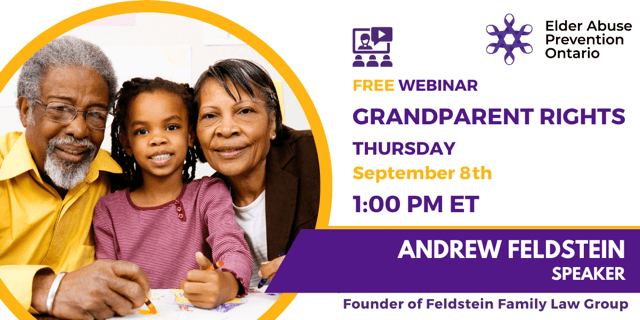 Andrew Feldstein
Founder, Feldstein Family Law Group
Andrew Feldstein graduated from Osgoode Hall Law School in 1992. Prior to focusing exclusively on family law, Andrew's legal practice covered many different areas, including corporate commercial. Through the years, Andrew has demonstrated his skill and commitment to his clients. He was honoured with an inaugural appointment to the Dispute Resolution Officer (DRO) Panel for Newmarket where he served for 7 years (2010-2017) to support the family law court process in aiding couples in attempts to resolve their issues before their case proceeds before a Judge. Andrew was selected for this appointment because of his vast experience with and successful ability to resolve complex family law issues using alternatives to the traditional court methods, including the collaborative family law process.
Andrew is a member of the Law Society of Ontario, York Region Law Association, a past member of the Ontario Bar Association Council and Canadian Bar Association National Council and Executive Member at Large for the Family Law Section of the Ontario Bar Association (2019). He actively supports current law students, education, and the legal profession by volunteering as a mentor for the Osgoode Hall Law School Mentor Program. Andrew also works together with AdvocateDaily.com, a legal wire service, to publish blogs, industry updates, and many more resources.
Andrew's knowledge of family law issues has evoked many media interviews regarding family law, including The Globe and Mail, Global Television, CTV NewsNet, ET Canada, Newstalk 610 CKTB, Maclean's Magazine, and Lawyers Weekly.